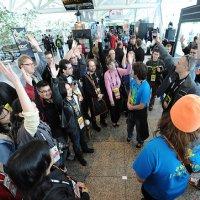 Organizers of the Game Developers Conference, the world's largest and longest running event serving professionals dedicated to the art and science of making games, hosted a record 19,000 game industry professionals attending San Francisco's Moscone Convention Center for the 25th edition of the conference.
The weeklong anniversary event offered more than 450 lectures, panels, summits, tutorials and roundtable discussions across a full five days of content, with GDC references 'trending' on Twitter in San Francisco.
It also saw unprecedented media coverage from outlets like the Los Angeles Times, the Associated Press, USA Today and beyond, with GDC sister site Gamasutra including full coverage on its site.
Lecture highlights from Monday and Tuesday's GDC more than 15 tutorials and summits included Rovio's Peter Vesterbacka discussing the Angry Birds phenomenon (GDC Smartphone Summit), Zynga's Mark Skaggs on going from FarmVille to CityVille (Social & Online Games Summit) game designer and author Jane McGonigal on 'gamefulness' (Serious Games Summit), and Super Meat Boy's creators on their rough route to success (Independent Games Summit).
GDC 2011 also played host to the 13th Annual Independent Games Festival and the 11th Annual Game Developers Choice Awards. Swedish independent developer Mojang's acclaimed 3D world-building sandbox title, Minecraft, won the Seumas McNally Grand Prize and Audience Award during the IGF, as well as three awards at the GDCAs, becoming the first title ever to win awards in both ceremonies in the same year.