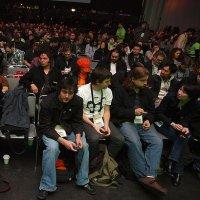 Organizers of the 2011 Game Developers Conference have debuted key new talks including Battlefield 3 tech talks, a fascinating 'failure workshop' and a reveal of the new Thief's generative music system.
As the overall session list for the February/March event further expands, organizers are specially highlighting new Main Conference session announcements released in the last few days.
These talks are part of the Main Conference, which takes place at the Moscone Center from Wednesday March 2nd to Friday March 4th, 2011 during the pre-eminent, San Francisco-based event, featuring discipline-specific Tracks dedicated to programming, design, art, audio, business and management, and production.
Some of the top new lectures added to the GDC roster include the following:
One high-profile talk is 'The Failure Workshop', featuring rapid-fire presentations from notables including PopCap's George Fan (Plants Vs. Zombies), 2D Boy's Kyle Gabler (World Of Goo), Stardock's Brad Wardell (Galactic Civilizations franchise).
The talks, which also feature Kyle Gray (Henry Hatsworth), Chris Hecker (SpyParty) and Matthew Wegner (Offroad Velociraptor Safari), feature "successful developers on their less-than-successful projects", as "the Failure Workshop focuses on the glorious failures we all have, and the successful games that emerged as a result."