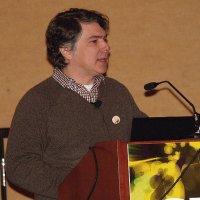 The GDC Vault service has debuted more free video talks from the 25th Game Developers Conference in San Francisco, including Frank Lantz evocatively exploring poker and Go, and Natural Selection's Charlie Cleveland on 'The 1-Hour Video Game MBA'.
Adding to the classic game postmortem series and sponsored video lectures available in GDC 2011's 'free recordings' section, the two new lectures are part of regular free video updates from all GDC shows this year.
Firstly, in an acclaimed talk from Area/Code co-founder Frank Lantz (pictured), 'Life and Death and Middle Pair: Go, Poker and the Sublime', now available for free on GDC Vault, the veteran game designer and educator presents why "Go and Poker are epic, world-changing games, they have spanned generations, and absorbed entire lifetimes of passionate study and play."
As Lantz's description for his inspirational lecture explains: "This talk will seek to understand how a handful of black and white stones and a deck of cards can demonstrate the immense scope and sublime power of games."
Secondly, Unknown Worlds Entertainment founder Charlie Cleveland (Natural Selection 2) presented 'The One-Hour Video Game MBA' at GDC 25, another well-received lecture described as a swift, focused business lesson for game creators.