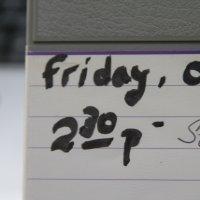 [Continuing his new 'Tales from the GDC Vault' series, digital historian Jason Scott showcases his work on building the GDC multimedia archives, presenting a video of Portal co-creator Kim Swift from IGS 2007 and audio ephemera from a decade previous.]
Having gone through dozens of tapes, I figured I'd take a moment to send a message to anyone running cameras at any event that has lots of sessions and recordings associated with it: labeling is awesome. I say that having picked up a pile of tapes in some crazy format, and finding them labeled "PART 1: CONTENT" up through "PART 8: CONTENT". Not to mention the label that said "GDC 2000."
Luckily, most have something useful like "FRIDAY - 03-10-00 2:30p - STORYTELLING BATES" (i.e. Bob Bates of Legend Entertainment speaking on Storytelling at GDC 2000, on Friday at 2:30pm).
But with so many of these going through my various tape players, it's usually a surprise about what comes out the other side. And then there's the ones that confuse me without meaning to. One audio tape had the year of GDC - in this case 1997 - and the name "Impromptu Ai Nak."
I figured he was some designer from faraway lands giving an impromptu talk in a conference hall - but in fact, it was an impromptu AI discussion between various developers about issues in artificial intelligence. Can anyone recognize the speakers? (And check out the other digitized audiotapes of GDC 1997 sessions we've put up on Vault.)
And finally... one of the audio tapes had the title, and then "chose not to be recorded" typed on the label. "Oh ho," I thought, "glad to see things were preserved regardless of the whims of the speaker back then." Popping the tape in, I heard some people chatting informally in a room, followed by the speaker requesting that he not be recorded. And that's where it ended. Does what it says on the tin!