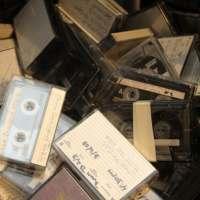 [Continuing his 'GDC 25' archival research ahead of the 25th Game Developers Conference in San Francisco this February/March, official GDC historian Jason Scott debuts newly digitized audio from multiple years of the show, from an American McGee's Alice postmortem through the Messiah Engine and beyond.]
The UPS guy has started to build up a level of respect for me these days - I get that kind of glance that says somehow I've become one of his big dropoff stops, when it's supposed to all be simple one-box deliveries in a suburban neighborhood. I make it a point to always help unload the truck, which keeps me on his good side and not finding boxes dumped sideways at the end of the driveway or worse.
So when he showed up and I came out, all he had to do was look me in the eye and go "Fourteen".
Fourteen? Well, it appears that while in the process of moving some offices, my corporate masters had packed up every last scrap of material related to GDC, sealed all the boxes, and sent this pile of history off to the archive guy. So now I have all the cassettes, programs, documents, CD-ROMs and flyers for all of GDC's past from about 1996. Not bad. This is what some of it looks like. Some of it:
This is not the same as the first photo I put up a while ago - this is an entire other set of material. Formats include VHS, Betamax, Mini-DV, CD-ROM, Audio Cassette, Jaz Drive (shudder), and in one particularly interesting development, an entire hard drive with the year scrawled on it.
So this is the crossroads, or more accurately the threshold; from here it stops being a novelty to have material to digitize or an inbox with work left to do - from here it starts being a haul. The presentations also can't be cherry-picked like at the start; this is just simply all of them, all types, every subject that the GDC organizers thought needed to be spoken about in later half of the 1990s. It's about duty over fun now.
But that's a duty I think is worth taking on. So I've been going through the tapes I've already digitized, uploading them, and getting things together.
Frankly, this amount of material coming in has meant I've had to really step up the ingesting hardware. Here's what we have going on right now in that department: