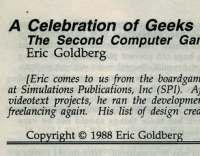 [In the latest update in his 'GDC Chronicles' articles ahead of the 25th Game Developers Conference in San Francisco next February, official GDC historian Jason Scott analyzes the take-aways from a report on 1988's second ever Computer Game Developers Conference.]
If you want to impress your colleagues with your old-school GDC knowledge, be sure to work in how the 25th GDC will not be the 25th year of GDC.
It worked like this. When the first GDC was organized, it was held at Chris Crawford's home in 1988. It was such a wild success, that a second GDC was put together and held at a hotel in the same year, with a panel/session format that has held to the present day. I wasn't there, but thanks to contributed items, I can have an idea of what went on.
Eric Goldberg wrote an article for the Journal of Computer Game Design, Crawford's journal related to games and game-making, describing in overview what went on GDC #2 (then called CGDC). Here's scanned images (with permission) from the Journal:
You can view the article as a pdf file (4.3mb) or browse the images on the GDC Flickr stream. You can also click on individual thumbnails to get an idea of the article's writing.
The article is effusive in tone, happy that the whole event came off with few hitches and pleased at the amount of support shown by the 150+ attendees on the need for a conference focused on game design and issues related specifically to designers.
The keynote was the legendary Dani Bunten, creator of M.U.L.E. and Seven Cities of Gold, who gave this advice: Start a family, raise children. Grow as a person and learn from your family what people want from games and how games can best serve the needs of adults and children. Bunten, ultimately, wanted to say that being a nerd or a geek was nothing to be ashamed of, and the assembled attendees could feel pride in their accomplishments and talents.