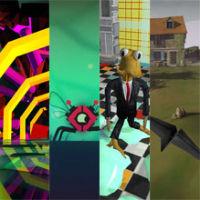 The Independent Games Festival has announced the eight Student Showcase winners for the thirteenth annual presentation of its prestigious awards, celebrating the brightest and most innovative creations to come out of universities and games programs from around the world in the past year.
This year's showcase of top student talent include slapstick physical comedy adventure Octodad, from DePaul University's Team DGE2, University of Montreal student Richard E. Flanagan's boldly styled Myst-like adventure Fract, and Tiny and Big, an ambitious, comic-book styled 3D action platformer from Germany's School of Arts and Design Kassel.
In total, this year's Student Competition took in more than 280 game entries across all platforms -- PC, console and mobile -- from a wide diversity of the world's most prestigious universities and games programs, a 47% increase from entrants in the 2010 Festival, making the Student IGF one of the world's largest showcases of student talent.
All of the Student Showcase winners announced today will be playable on the Expo show floor at the historic 25th Game Developers Conference, to be held in San Francisco starting February 28th, 2011. Each team will receive a $500 prize for being selected into the Showcase, and will are finalists for an additional $2,500 prize for Best Student Game, revealed during the Independent Games Festival Awards on March 2nd.
In conjunction with this announcement, IGF organizers are also revealing that this year's Independent Games Festival Awards at GDC will be hosted by Anthony Carboni. Carboni is host and producer of Bytejacker, the acclaimed indie and downloadable game video show and website, and one of the most enthusiastic and devoted followers of the independent game scene.
The full list of Student Showcase winners for the 2011 Independent Games Festival, along with 'honorable mentions' to those top-quality games that didn't quite make it to finalist status, are as follows: