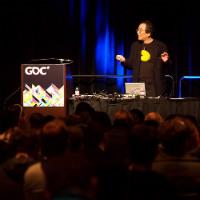 The GDC Vault service has debuted both free and subscriber-only video, audio and slides from the 25th Game Developers Conference in San Francisco, including free Doom, Populous and Out Of This/Another World postmortem videos.
Following the conclusion of the record 19,000-person game creation conference, the classic game postmortem series is now available in GDC 2011's 'free recordings' section, alongside free sponsored video lectures and slides.
Some of the many highlights of the hour-long set of 11 postmortem lectures by seminal game industry figures include Eric Chahi's standing-ovation talk on the making of Out Of This World/Another World, as well as John Romero and Tom Hall on the creation of id Software's Doom and Will Wright discussing the crafting of Raid On Bungeling Bay, whose editor inspired his work on SimCity.
With Ron Gilbert talking Maniac Mansion, Peter Molyneux examining the making of Populous, and Toru Iwatani on the creation of Pac-Man (pictured) - with English and Japanese audio versions - the postmortems are rounded out by other free videos on the making of Elite, Marble Madness, Bejeweled, Pitfall! and Prince Of Persia by their renowned creators.
Also now available is free video of Satoru Iwata's GDC 2011 keynote, named 'Video Games Turn 25: A Historical Perspective and Vision For The Future', as well as nearly 30 specially video-recorded sponsor videos from major companies like Google, PayPal, Intel, Nvidia, Digital River and more.
These free video talks, which include high-quality panels about monetization, rendering, 3D stereoscopy and other subjects, are all freely available after filling in a brief registration form. GDC organizers have also made available over 150 slides from GDC 2011 presenters, including many of the biggest talks.