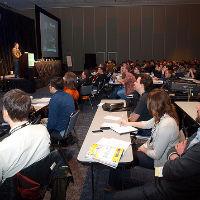 Organizers of the 2011 Game Developers Conference have announced initial line-ups for major Summits at the 25th edition of the industry's leading digital entertainment event next February.
Held alongside the GDC tutorials on Monday, February 28th and Tuesday, March 1st in San Francisco, a large range of key one- and two-day Summits will kick off GDC week with innovative and informative programs led by industry experts -- including notables from Zynga, Area/Code, Google, Klei Entertainment, MIT, and more.
As the overall session list for GDC 2011 continues to grow, organizers are highlighting the top initial talks for the seven Summits, including the expanded Social & Online Games Summit, the new Smartphone Summit, and the long-running Independent Games Summit -- all open to GDC 2011 pass-holders with a Summits & Tutorials or All Access Pass.
Newly announced GDC 2011 summit sessions of particular note include ones from the following Summits:
- The Social and Online Games Summit is expanding even further for 2011 after a blockbuster 2010 Summit, with initial technical-specific highlights including 'Social Speed: Improving Flash Performance for Social Games' from Zynga director of engineering Amitt Mahajan, centering on the different approaches studios can take to making their social games both "load and run fast."
The full lecture list to date for the Summit includes 'Business', 'Essentials', 'Tech' and 'Vision' themed mini-tracks, and spans everything from Playdom's Peter Fishman on 'Behavioral Economics and Social Games' through Spry Fox's provocative Daniel Cook on 'How to Survive the Inevitable Enslavement of Developers by Facebook'.