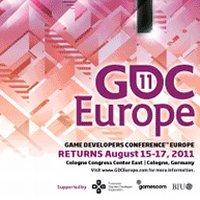 Organizers of GDC Europe 2011 have revealed a host of focused Summits for this year's show, also announcing the call for submissions for this August's conference in Cologne, Germany.
Taking place Monday through Wednesday, August 15-17, 2011 at the Cologne Congress-Centrum Ost, GDC Europe 2011 will again provide the essential pan-European perspective of game development and business trends happening throughout the continent today.
Now it in its third iteration and taking place alongside the European-leading Gamescom trade fair, GDC Europe will continue to serve the European game industry by gathering the world's leading speakers in areas specific to current game development across platforms and development disciplines.
The call for submissions for lectures will include main conference tracks in Business & Marketing, Game Design, Production, Programming, and Visual Arts.
Organizers are looking for leading practitioners to propose lectures and panels with major practical takeaways for today's video game market.
In addition, GDC Europe 2011 plans to expand the breadth of its conference by offering four Summits to be held concurrently with the main conference.
Reflective of the growing development and activity within the continent, GDC Europe will introduce the Social Games Summit, Smartphone & Tablet Games Summit, Independent Games Summit, and Community Management Summit to its roster this year.