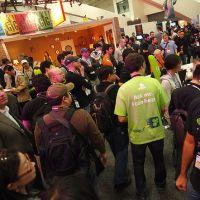 With Game Developers Conference 2010 now at an end, the event's sister editorial website Gamasutra.com has rounded up the top announcements - from Sony Move through OnLive's release specifics - and write-ups of the biggest talks into one handy news story.
The official GDC 2010 page on Gamasutra has more than 100 news stories on one of the biggest events of the gaming year, and Gamasutra is now highlighting the biggest product-related announcements of the show.
This will be followed by the site's pick of the top ten most intriguing write-ups from the more than 450 sessions on display at this year's GDC in San Francisco. Here's some of the top announcements and write-ups from last week's show, according to Gamasutra:
The Announcements
GDC: Sony's Motion Controller Is 'PlayStation Move'
"At GDC on Wednesday, Sony revealed more details about its PS3 motion controller, which isn't called Arc or Gem, but "PlayStation Move," a product Sony says will bring on 'the next generation of motion gaming.'"
GDC: OnLive Gets Launch Date, Reveals Initial Publishers
"Cloud-based game streaming service OnLive has announced an official U.S. launch date of June 17, 2010, including games from Electronic Arts, Ubisoft, 2K Games, THQ and Warner Bros. Interactive Entertainment."
GDC: Microsoft Announces XNA Game Studio 4.0
"Microsoft has announced version 4.0 of its XNA Game Studio development package, which includes support for its new Windows Phone 7 Series, as well as enhancing features for Xbox 360 and PC game development."