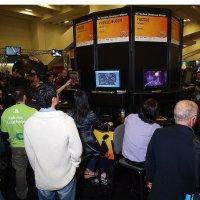 The organizers of the 13th Annual Independent Games Festival -- the longest-running and largest festival relating to independent games worldwide -- are proud to announce another year of record entry numbers for IGF 2011's Student Competition, following its submission deadline this week.
In total, this year's Student Competition took in more than 280 game entries across all platforms -- PC, console and mobile -- from a wide diversity of the most prestigious universities and games programs from around the world.
While 2010's content saw an impressive 193 entries, this year sees that number increase another 47% to 283 total games, making the Student IGF one of the world's largest showcases of student talent.
Together with the record Main Competition entries, this year's IGF has taken in roughly 650 total entries -- the largest number in the festival's history across the Main and Student competitions.
This year's Student Competition includes a number of entries from students tackling intimate personal issues through the medium of games, including Singapore-MIT GAMBIT Game Lab's Elude, a game which mirrors "the rising tide of depression, and the search for a path to happiness".
Also in this vein is the University of Portsmouth team's self-reflective portrait of a single man in Dinner Date, which looks at "his desires and doubts to reflections on his friends and his place in the world" as he waits alone for a would-be romantic evening.