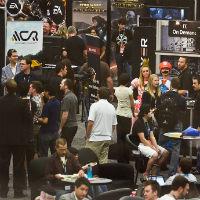 Organizers of the 2011 Game Developers Conference Online, which concluded on Thursday, October 13 in Austin, Texas, have announced confirmed attendance numbers of 3,350, growth of 12 percent over last year's event and an all-time high.
This year's GDC Online, organized by the UBM TechWeb Game Network (which also owns sister site Gamasutra) featured more than 145 lectures, panels, keynotes and roundtable discussions presented by over 225 speakers, and a bustling expo floor with over 100 exhibitors and sponsors.
Gamasutra has been covering the event in full this week, including a keynote from PopCap co-founder John Vechey, as well as signature Main Conference talks from design veteran Raph Koster and from Laralyn McWilliams.
In addition, the show's Summits included a well-attended Virtual Items Summit, a Smartphone & Tablet Gaming Summit, and the much appreciated Game Narrative Summit, which featured a keynote Q&A with notable game-influenced author Neal Stephenson.
Pictures of the event are available at the official Game Developers Conference Flickr page, with lecture slides and video from GDC Online set to debut on the GDC Vault website in the weeks following the show, in both free and member-based tiers.