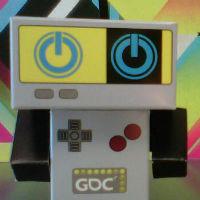 GDC 2011 organizers are detailing specifics for next week's San Francisco-based show, including the return of 'Poster Sessions', the speaker line-up for Experimental Gameplay Sessions and the 'Social Devs Rant Back' talk.
The complete GDC conference schedule, including over 650 speakers, is currently available on both GDC Schedule Builder and the newly launched, smartphone-centric GDC Mobile site.
With the Moscone Center, San Francisco-based show just a few days away from its February 28th through March 4th run, organizers are highlighting the following lectures:
- A set of 'poster sessions' have been announced on Wednesday and Thursday from noon to 2 p.m., returning a popular format to Game Developers Conference in a higher profile setting.
As the description explains, poster sessions are "similar to a traditional lecture; however, these sessions are presented in front of an actual physical poster explaining his/her thesis, to a smaller group of attendees [including] one-on-one interactions."
The poster sessions, which occur on either Wednesday or Thursday, include Telltale's Bruce Wilcox on 'Beyond Facade: Pattern Matching for Natural Language Applications', as well as Volition's Jordan Lynn on 'How to Start a Usability Lab for $2500 or Less', plus High Moon's Daniel Holbert on 'Saying "Goodbye" to Shadow Acne'.
- The organizers of the lauded Experimental Gameplay Sessions event at GDC 2011 have revealed the speakers -- although not the specific games and prototypes -- for the return of the event that previously showcased early versions of Katamari Damacy, Portal, Rag Doll Kung Fu and Flower
The much-awaited two-hour lecture, compiled from submitted prototypes and games that "explore new frontiers in game design", includes Jon Blow (The Witness), Jason Rohrer (Inside A Star-Filled Sky), Richard Lemarchand (Uncharted franchise), Andy Schatz (Monaco), Robin Hunicke (Journey), Daniel Benmergui (Today I Die) and Frank Lantz (Area/Code/Zynga).