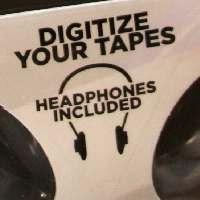 [Continuing his 'GDC 25' archival mining ahead of the 25th Game Developers Conference in San Francisco next February, official GDC historian Jason Scott presents newly unearthed audio of a 1998 Game Developers Conference lecture led by Steve Meretzky.]
Besides the comprehensive pile of material from Game Developers Conference organizers itself, attendees have been sending in photos, stories, and home movies of their times at various conferences throughout the years. Sadly, nobody is has yet mailed in any console prototypes or cardboard standups, but I'm patient. I'll wait.
Meanwhile, there's this massive pile of tapes, both audio and video, that need some digitizing. I've started with the audio tapes, recordings of sessions and symposiums at GDCs past. Pretty much all I have are recorded professionally, by companies hired to capture the event, and therefore recorded off the mixing board. Eventually, GDC moves away from audio tapes (actual tapes) and shifts over to CD-ROMs with recordings on them, and of course video.
I've always had a soft spot for adventure games, so I thought our first digitized exhibit on this 'GDC 25' journey would be Tape #109 from the 1998 Game Developers Conference, held in Long Beach, California from May 4th-8th. The title of this tape is 'Are Adventure Games Dead?', hosted by Steve Meretzky, and it's now available to listen to on GDC Vault.
Meretzky, now at social game giant Playdom, probably needs no introduction for most of you, but if so, by 1998 he was already recognized as a giant in the field of game design, having made fifteen games for companies such as Infocom, Legend Entertainment, and Boffo.
Many of these were adventure games, of both the text and graphics variety, and in this hour-long seminar (which he calls "a roundtable but with a lot more people"), he presents his thoughts on the state of adventure gaming in the late '90s, and then invites audience members to comment and questions.
While I think the whole tape is worth listening to, I'll just mention some highlights. After a short introduction about how the seminar will go, Meretzky shows the audience (unfortunately, not in a way we can know what was shown) the sales of 18 recent adventure games (1996-1998). The list is dominated at the top by Myst and Riven, with other games' sales leaving Meretzky "shocked" at how low they are.