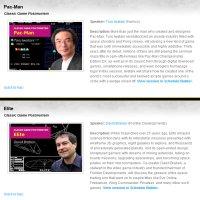 Organizers of Game Developers Conference 2011 have revealed an all-star line-up of game developers, from John Romero (Doom) through Will Wright (Raid On Bungeling Bay) to Toru Iwatani (Pac-Man) and beyond, presenting 'postmortems' on the making of some of the most famous video games of all time.
The special one-off hour long lectures, part of celebrations for the 25th iteration of GDC, will all take place during the Main Conference of this year's show, held at the Moscone Center in San Francisco from March 2nd to 4th.
Some of the other highlights of the sessions include Jordan Mechner on the making of the original Prince Of Persia and Mark Cerny on the classic Marble Madness.
In addition, Ron Gilbert is discussing the making of Maniac Mansion, David Braben is talking seminal space exploration title Elite, and Eric Chahi analyzes Out Of This World/Another World.
Finally, David Crane discusses the making of Pitfall!, Jason Kapalka looks at his work on PopCap's Bejeweled, and Peter Molyneux presents a lecture on the making of original 'god game' Populous.
As detailed on a special 'classic postmortems' webpage on the Game Developers Conference website, the following eleven special lectures are now confirmed for GDC 2011:
- Prince Of Persia (Jordan Mechner)
"Decades before it was a Hollywood film with tens of millions of dollars and hundreds of workers supporting its production, Prince of Persia was mostly the project of a single man. Jordan Mechner rotoscoped the game's fluid and realistic character animations, designed its difficult puzzles, crafted its thrilling sword-fighting combat, and penned its captivating story. He will present a postmortem discussion on the landmark cinematic platformer."
- Pac-Man (Toru Iwatani)
"More than just the man who created and designed Pac-Man, Toru Iwatani revolutionized an arcade industry filled with space shooters and Pong clones, introducing a new kind of game that was both immediately accessible and highly addictive. In this session, Iwatani will share how he created one of the world's most successful and beloved arcade games around a circle with a wedge sliced off."