At GDC 2018, attendees will have the opportunity to interact with an array of sponsors who help fuel the games industry, including our Diamond Partners, whose support plays an integral role to the success of GDC.
To introduce you to our Diamond Partner at Microsoft, we've reached out to 3 key executives who are leading products, services, and initiatives that you'll see on the expo floor at GDC 2018.
Don't miss out! The Game Developers Conference in San Francisco next March will be a hub for many more great industry titans. For more visit the show's official website.
First things first, meet Katy Jo Wright, who's been the tip of the spear of Microsoft's Gaming for Everyone initiative. 
Could you please introduce yourself and your role at Microsoft?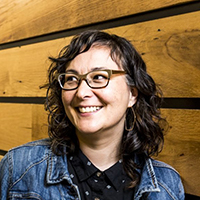 My name is Katy Jo Wright and I am the Director of Gaming For Everyone within Xbox. I have been at Microsoft for 18 years and I can definitely say this job is the most exciting role I've ever had at the company. Gaming For Everyone is about making Xbox a place where everyone has fun. We recognize that "fun" means different things to different people, so I get to work across our team to bring intentional, inclusive practices and thinking to everything we do at Xbox.
It's been a few years since the Xbox Gaming for Everyone initiative kicked off, are you able to share with us any significant recent steps that have proven successful in creating more inclusive diverse gaming environments?
Gamers are at the center of everything we do at Xbox, and our fans are a diverse audience with varying interests, gaming preferences and needs. Gaming For Everyone (G4E) is an end-to-end approach across the business –from who we are, to what we create and how we engage with our fans, developers and others in the industry. G4E is a cultural shift at Team Xbox in which we bring a new level of intentionality to how we contribute to the gaming industry and what we deliver in our respective day to day roles. One of my favorite recent examples is the new Xbox Avatars that allow gamers to personalize their online personas - ranging from purple hair to a prosthetic limb, to a full range of body types and skin colors, etc.
The team has done some great work here and the feedback we've received in preview has been very positive. Another example comes from our platform team with Copilot, a feature that allows gamers to link two controllers to play cooperatively through a single profile. This feature enables parents to easily play with their kids, for seasoned gamers to help newer gamers learn to play, or a gamer that has limited dexterity play with a partner. From a content perspective, Gears of War 4 is an awesome example of empowering players to customize their own experience within the game. I love that there are bad ass characters that are female, Black, Latino(a) and White. I can also customize the amount of vulgarity and gore in the game, the difficulty level, accessibility features, and more. The amount of choice provided to customize your experience in the game inherently makes it more inclusive to a broader range of gamers.
How do you think developers at GDC can help spread this kind of culture across other environments in the game industry?
Gaming For Everyone is not about making sure every game you make is fun for every person. Rather, it's about delivering a wide range of experiences so everyone can find their own type of fun. It's about taking the time to learn more about those who may want to play your game but can't, understanding what is the blocking an optimal gameplay experience for them, and determining if you can make adjustments so more people can have fun with the game. I'd like to challenge all game creators to take a minute to think about which gamers may be unintentionally excluded from playing their games as a result of how characters are represented, language used, range of violence, accessibility requirements, etc. Sometimes all it takes is a little tweak at the design stage to really open up the experience to a whole new set of gamers; and who doesn't want more people playing their games?
I also challenge developers to engage in the ongoing industry discussion about inclusivity so we can all learn together. For example, Xbox User Research will present our learnings about improving the online gaming experience at GDC this year. This is an opportunity for industry giants, independent studios and everyone in-between to come together in an effort to better understand our players and learn how we can eliminate obstacles to make gaming more fun for more people.
Next up, Kevin Gammill explains the power of Microsoft's cloud gaming services that you'll find at GDC. 
Q:  Could you please introduce yourself and your role at Microsoft?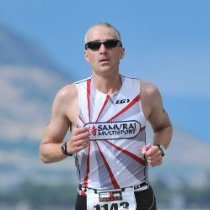 A: Sure, my name is Kevin Gammill and I just recently took over the role as General Manager of our cloud gaming services. Prior to that, I was responsible for the project management aspects of our core Xbox platform and software development kit, including driving Xbox One X from conception to release.
Q: Now that the Xbox One X is out in the wild, what have you learned about working with developers who have been finally able to support the console's unique capabilities? 
A: One of the goals we had with Xbox one X is to have the best versions of the best games people want to play to be on our device. This starts with our development partners and a focus on reducing as much friction in taking  advantage of the advanced capabilities of Xbox one X. The team killed it. From the hardware specifications, our dedicated developer kit, and our software development kit, the engineering team did a fantastic job making it as easy as possible for our development partners to accomplish this. You saw this with over 70 Xbox One X enhanced titles at launch which is now over 100. You can see the full list here.
Q: What will Microsoft be offering at GDC for developers interested in the platform?
A: Recently, we acquired PlayFab, a complete backend provider of services to build, launch and grow cloud-connected games, which is a fantastic complement to Azure for our development partners to create, scale and grow their games. At GDC, you can learn more about PlayFab including learning from an Indie Studio who grew a hit game after only eight weeks of development!
Finally, Katie Stone Perez gets you ready to learn more about Mixer at GDC 2018!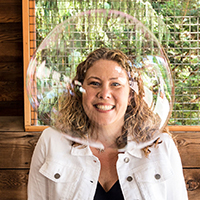 Hi I'm Katie Stone Perez and I am the Director of Mixer Interactive and Developer Success. Mixer is a live-streaming service that launched just under a year ago and has seen tremendous growth. One of the key things that drew me to Mixer is that community is at the heart of everything we do. The service was originally created when our co-founders saw a need in the gaming community to enable faster communication between streamers and their viewers; and community continues to be a core pillar of who we are today.
Our Faster Than Light (FTL) technology enables streamers to chat and respond virtually instantly, meaning that the streamers can respond to their users and keep the conversation relevant to what's currently happening in the game. This near-instant communication then created the perfect opportunity to take community engagement to the next step, by creating a unique way for viewers to directly impact the streamer's experience. And thus, Mixer Interactivity was born. Mixer Interactivity blurs the line between watching and playing. With Mixer Interactivity, your viewers can help chart a course, help the streamer survive the battle, or pick how the game will progress. By empowering viewers to become players in the game, it creates a connection that developers can then leverage and build from.
This means landscape is changing for game developers. Over my 16-year career at Xbox working on games, Xbox Live Arcade, Kinect, HoloLens and [email protected], I've seen huge shifts in our industry. We've seen growing connectivity across players and the development of amazing communities online, stunning advances in technology and graphical performance, and shifts in how players are engaging, acquiring and consuming content. One of the biggest trends today is the massive growth in the number of viewers watching games being played. With over 665 million people around the world consuming gaming video content today, there is a huge opportunity to think about how to use gaming video as a medium to attract, engage, and retain players using game video.
When you leverage Mixer's Interactivity platform, you can take those viewers and transform them directly into players within your experience. And with game video viewers spending significantly more on digital and in-game content, this is an audience that should not be ignored.
No game release today should be considered complete without a robust streaming strategy and our team at Mixer is excited to partner with developers to help them find success in connecting with viewers and partnering with streamers.
Anyone heading to GDC who wants to learn more about Mixer should check out our Sponsored Session "Get Massive Promotion for Minimal Effort" or stop by the Azure exhibit outside the Expo hall entrance to meet our team and play a Mixer-enabled multiplayer title! We will be taking walk-up appointments daily, so please stop by when you arrive and book some time to come and learn about how Mixer Interactivity can help you transform what it means to play your game!
GDC 2018 will take place March 19-23rd at the Moscone Center in San Francisco. For more information, visit the show's official website, or subscribe to regular updates via Facebook, Twitter, or RSS.