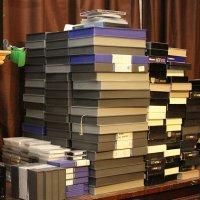 [In the first of his new 'Tales from the GDC Vault' series, digital historian Jason Scott updates on his continued task, digitizing and contextualizing Game Developers Conference content for the GDC multimedia archives, highlighting two of the just-posted classic postmortems for scrutiny.]
Jason Scott, GDC historian and archivist here. I'm still around! After the end of my historically-themed work for 'GDC 25', it was not 100% clear that GDC would want to continue the process of rescuing/archiving their own past for presentation on the Vault. Well, the word came down and here I am. So let's dive back in.
I'm really glad they made this choice, because a service like the GDC Vault holds a lot of value, whether for game scholars studying trends and events in the industry, or to give newer developers insight into what practices have been in place and maybe even why those practices came about.
To that end, I hope to turn this room of videotape, audiotape and artifacts into a nicely boxed, digitized pile that you can enjoy - most of which will be made available in the free section of GDC Vault.
One part of being the GDC historian is you get to go to GDC. I had a great time, took a lot of photos, and talked to a good number of people. And I got to attend the newest crop of presentations, instead of hearing them off audio and videotape.
Like a certain percentage of GDC attendees, I was really impressed and looking forward to the Classic Postmortems... but I was also keeping my expectations tempered. After all, in some cases the developers were being asked to hearken 10 to 20 years ago, and talk about events that might have fallen by the wayside in terms of memory.
I figured most might go in somewhat nostalgic directions, glossing over harshness or not giving much larger context, in favor of reminiscing about the whole project as being worth all the now-forgotten trouble.
I had little to worry about. The postmortems were amazing. Let me highlight a couple you should check out if you haven't already.
Mark Cerny, who has had a long career in video games with companies including Crystal Dynamics, Sega, Insomniac, Sony, and Naughty Dog, got his big break working for Atari back in 1982.
From this early time came a very unique, very visually arresting game called Marble Madness. For his classic postmortem, Cerny breaks down the choices and process that lead to Marble Madness, and then what work went into the design/hardware of the game itself.
Gamasutra covered this nicely, but I want to additionally point out how effectively Cerny gives a feeling for working at Atari at the time. In particular, he covers the time and iteration issues that hardware/software developers within the company had to deal with, and the amount of design work that was changed or thrown out along the way. His notes and early drawings from that time are excellent, and he shows what decisions he made and why.