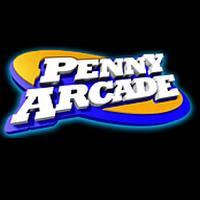 The 2010 Game Developers Choice Awards have announced that the key figures behind popular webcomic Penny Arcade, the Child's Play Charity and the Penny Arcade Expo events -- writer Jerry Holkins, artist Mike Krahulik and business guru Robert Khoo -- will be awarded the prestigious Ambassador Award.
The Special Award honors an individual or individuals who have "helped the game industry advance to a better place, either through facilitating a better game community from within, or by reaching outside the industry to be an advocate for video games and help further our art."
It is chosen by the elite Choice Awards Advisory Committee, part of the highest honors in game development acknowledging excellence in game creation, which includes game industry notables such as Ben Cousins (EA DICE), Harvey Smith (Arkane), Raph Koster (Metaplace), John Vechey (PopCap), Ray Muzyka (BioWare), Clint Hocking (Ubisoft), and many others.
Holkins, Krahulik and Khoo will receive their award for their genuine, gamer-friendly empire they've built over the past decade, lovingly skewering video game culture and developers while building up a following, events and an industry-leading video game charity that help epitomize the positive elements of 'gamer spirit'.