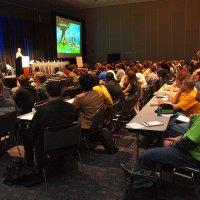 Game Developers Conference organizers have announced the opening of the call for submissions for the show, to be held in San Francisco on February 28th to March 4th 2011. The call for submissions to present lectures, roundtables and panel sessions for the 2011 Game GDC -- the historic 25th anniversary show -- is now open through Wednesday, August 25th.
The main GDC advisory board is looking for submissions in the following game-related areas/tracks: Audio, Business and Management, Game Design, Production, Programming and Visual Arts, to be showcased on the prestigious Wednesday to Friday main conference of Game Developers Conference 2011. (Submissions for the GDC Summits will open later in the year.)
A talk abstract is required alongside a more detailed description and speaker information, and the GDC Call For Papers page has multiple annotated examples of previous submissions, giving detailed, precise instructions on speaker criteria and the selection process.
Alongside this year's call for submissions, the GDC 2011 advisory board has been expanded, adding several leading industry figures in the social and independent gaming spaces.
In particular, new board members include Media Molecule studio director Siobhan Reddy (LittleBigPlanet 2), EA2D designer/programmer Soren Johnson (Civilization IV, Spore), independent developer Adam Saltsman (Canabalt, Flixel), and Playfish San Francisco GM Dan Fiden. Also added for their art and audio expertise respectively are Undead Labs' Steve Theodore and Microsoft's Scott Selfon.