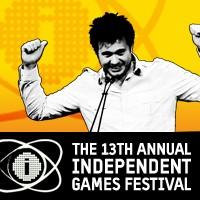 The organizers of the 13th Annual Independent Games Festival -- the longest-running and largest festival relating to independent games worldwide -- are proud to announce another year of record entry numbers for IGF 2011's Main Competition, following its submission deadline this week.
In total, this year's Main Competition, which will see finalists showcased and winners announced at GDC 2011 in San Francisco next March, took in just under 400 game entries -- many of them new titles from leading indie developers -- across all platforms.
This includes 150 entries for mobile hardware like the iPhone, iPad, DS, PSP and Android devices, with all mobile entries now eligible for all IGF 2011 prizes, including a unique Best Mobile Game award.
In-depth information and entrant-provided screenshots and videos on each of the IGF Main Competition entries are now available on IGF.com, a feature unique to the contest.
This total entry tally for the event comprises almost 30 percent more games than last year's record 306 Main Competition entries. This is itself a 35 percent rise over the previous year -- emphasizing the continued popularity and importance of both independent games and the IGF itself.