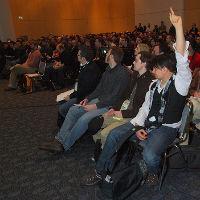 Organizers of the 2011 Game Developers Conference are highlighting full-day sponsored tutorials on Android, Microsoft's Kinect, Unity, and Google's full product suite, for the 25th edition of the industry's leading event for game creators.
With the overall session list for the event now almost full, organizers are taking the opportunity to highlight the sponsored full-day tutorials from major firms available to attendees.
These sessions, part of a full roster of one and two-day tutorials will once again be held alongside the GDC Summits on the first two days of the San Francisco-based event, Monday, February 28th and Tuesday, March 1st.
They will be open to those with a Summits & Tutorials or All-Access Pass, and interested parties can select their preference during the process of online registration and onsite check-in to help GDC staff with room capacity.
(Organizers note that some tutorials may become full and no longer be selectable during registration - attendees who select a particular tutorial and have it printed on their badge will be allowed into busy tutorials first.)
Sponsored GDC 2011 tutorials of particular note to the wider audience include the following:
- A Google Developer Day taking place on Monday includes Google game development-centric luminaries such as Bill Budge and Gregg Tavares, promising to allow development and business-centric attendees to "get a peek at the brand-new technologies Google is developing for games."