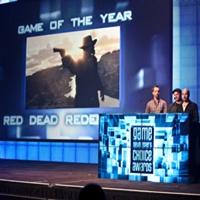 Rockstar San Diego's critically-acclaimed Wild West adventure title Red Dead Redemption was the big winner at the 11th Annual Game Developers Choice Awards in San Francisco yesterday evening.
The awards were presented at a ceremony at UBM TechWeb Game Network's historic 25th Game Developers Conference at the Moscone Center in San Francisco, with Red Dead Redemption receiving a total of four awards, including Best Game Design and the coveted Game of the Year award.
Another award stand-out, Swedish developer Mojang's 3D sandbox title Minecraft, received awards for Best Debut Game, Best Downloadable Game, and the Innovation Award. The game was also awarded the Seumas McNally Grand Prize earlier in the evening at the 11th Annual Independent Games Festival Awards, making this the first year a game has been recognized by both the GDCA and the IGF during the same year.
Other Choice Awards winners include BioWare's emotionally-charged science fiction adventure Mass Effect 2, which won the award for Best Writing, and ZeptoLab's iOS hit Cut the Rope, which took home the prize for Best Handheld Game.
Finally, the Best Visual Arts Award went to indie developer Playdead's Xbox Live Arcade hit Limbo. The evocative monochrome puzzle platformer won last year's Independent Game Festival Awards for Visual Art and Technical Excellence.
The Game Developers Choice Awards, which honor the very best games of the year, was created for and voted on by developers. The finalists were chosen via a combination of open game industry nominations and the votes of the leading creators in the Choice Awards Advisory Committee.