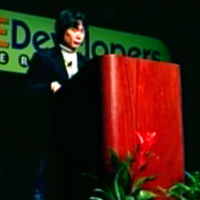 [Continuing his 'Tales from the Vault' series, official GDC historian Jason Scott debuts complete free video of two seminal Nintendo keynotes at GDC -- Shigeru Miyamoto in 1999 and Satoru Iwata in 2005.]
The videotapes are starting to pile up in the "done" box and the process of turning the resulting video files into more lightweight video streaming files is now well underway, and I'll be adding these talks at a good clip for the coming months.
Since Nintendo gave the main keynote for the 2011 GDC [GDC Vault free video], I thought it might be fun to bring out two other Nintendo keynotes given across the last ten years plus: a Shigeru Miyamoto presentation from GDC 1999, and Nintendo's 2005 GDC keynote that introduced the Nintendo DS in depth to the world.
So we're debuting these talks for the first time online, free via GDC Vault. Firstly, Miyamoto's appearance and keynote at the 1999 Game Developers Conference [GDC Vault free video] is a big deal -- a real big deal.
Even if you didn't know who he was, the introductions and palpable excitement from the presenters shows that having the legendary Mario game designer was a huge win for the conference.
To his great credit, Miyamoto provides a presentation about his ideas on game design, the history of Nintendo's entry into the console game market, and a call to innovation, and it's filled with ideas both specific and universal. In other words, he makes it worth the trip.
His speech, coming via a BetaSP archive we've digitized, starts in English. But then he announces he'll continue in Japanese, which he does, with a translator providing the rhythmic back-and-forth between the two languages.
And the core message, as I hear it, is that he thinks story and gameplay, with a good dash of artistry, is what brings the games from being mere shoot-em-ups and twitchfests to being something more, something that will stay with people a long time.
Perhaps that might seem obvious, but his consistent vision from the days of Donkey Kong up through to what he hints at (the Wii) gives these games a sense of weight and thoughtfulness, and his wish in the speech is for many others to do the same.
As an unbroken, long-form presentation of evidence that Miyamoto deserves his high regard and hall of fame designer status, this speech is perfect. It lives up to all the promises of any great speech, and is well worth enjoying, even a decade plus later.