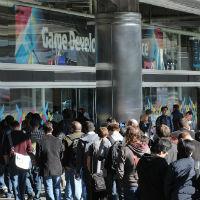 The 2012 Game Developers Conference has announced a number of new highlights, track keynotes, and the all-new 'Flash Forward,' ahead of the February 2nd early deadline for pass registration.
Sessions this year for the March 5th-9th San Francisco show include a lecture from Heavy Rain creator David Cage from developer Quantic Dream. In "Virtual Actors and Emotion in Games," Cage will give the first public demo of the new technology his studio is using to create emotional resonance, as well as discuss practices for capturing actor performances.
Game design legends Cliff Bleszinski, Sid Meier, Peter Molyneux and John Romero will come together for a discussion on the key games that have and continue to influence them in the panel "Forgotten Tales Remembered: The Games That Inspired Leading Innovators."
Naughty Dog Lead Game Designer Richard Lemarchand will return to host the popular "GDC Microtalks," a one-hour session featuring ten prominent speakers with a variety of points-of-view, this year each considering the theme "Playing for Time."
Details on these and all of the 400+ sessions at GDC 2012 can be found at the official GDC schedule page, with final talk times due later this week.
In addition, this year, the Main Conference content begins on Wednesday, March 7, at 9:00am with the GDC's first-ever "Flash Forward" session. The Flash Forward gives all Main Conference speakers the opportunity to grab attendees' attention by taking the stage for just sixty seconds each to give a brief overview of their session.
The Flash Forward will provide the opportunity to hear first-hand what will be discussed in sessions taking place Wednesday-Friday, and allow attendees to decide which talks best suit their interests. The Flash Forward is expected to be a fun, fast-paced, can't-miss event.
GDC is also introducing a new format for its keynote sessions. Rather than one central main conference keynote, GDC will feature six Track Keynotes, one for each discipline on which the main conference tracks focus, and featuring industry luminaries like Plants Vs. Zombies creator George Fan, ex-EA and current Zynga COO John Schappert, Bungie lead engineer and attendee-favorite GDC speaker Brian Sharp and more. The track keynotes are: