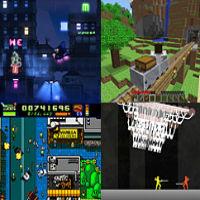 The Independent Games Festival has announced the Main Competition finalists for the thirteenth annual presentation of its prestigious awards, celebrating the brightest and most influential creations to come out of the independent video game development community in the past year.
This year's finalists for the most prestigious indie game awards are led by multiple nominations for standout titles including Frictional Games' psychological horror game Amnesia: The Dark Descent and Mojang's acclaimed 3D worldbuilding sandbox title Minecraft, which received three nominations each.
Other multiple-nominated titles include QCF Design's short playtime 'dungeon crawl' adventure Desktop Dungeons, Messhof's two-player retro fencing game Nidhogg, which received 3 nominations including a Nuovo Award nod, and Supergiant Games' lush isometric adventure title Bastion.
In addition, with the Best Mobile Game award integrated into the IGF Main Competition, there was stiff competition across all categories from games on platforms including iPhone, Android, iPad and beyond, with Best Mobile Game finalists including Ratloop's unique 'line of sight' puzzler Helsing's Fire and former IGF Grand Prize winner Erik Svedang's 'minimalistic dueling game' for iPad, Shot Shot Shoot, as well as Mikengreg's popular App Store title Solipskier.
All of the finalists announced today will be playable on the Expo show floor at the historic 25th Game Developers Conference,
to be held in San Francisco starting February 28th, 2011. In addition,
nearly $50,000 of prizes in various categories, including the $20,000
Seumas McNally Grand Prize will be awarded to these games at the
Independent Games Festival Awards on the evening of March 2nd.
The almost 400 Main Competition entries
represents almost 30 percent more games than last year's record 306
titles, itself a 35 percent rise over the previous year. This emphasizes
the continued popularity and importance of the IGF, which has helped to
highlight and popularize the major independent games of the last
decade, from Darwinia and Braid through World Of Goo to Limbo and beyond.
The full list of finalists for the 2011 Independent Games Festival,
with jury-picked 'honorable mentions' to those top-quality games that
didn't quite make it to finalist status, are as follows: