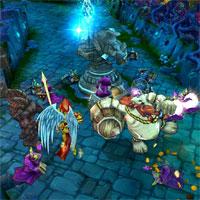 Organizers of Game Developers Conference Online 2011 have debuted the first sessions from the October show in Austin, TX, including League Of Legends's design director and major talks from Loot Drop and Playdom on social gaming's evolution.
Taking place Monday through Thursday, October 10-13, 2011 at the Austin Convention Center in Austin, Texas, GDC Online continues as the leading worldwide event to solely discuss the development and business trends surrounding connected games -- including casual titles, MMOs, virtual worlds, and social networking games.
This year's Main Conference will include tracks on Business & Marketing, Customer Experience, Design, Production, and Programming, as well as a sponsored track on Monetization.
As the event's Schedule Builder reveals the first set of lectures, the following are some highlights from this year's Main Conference:
- In "Designers are Human Too - Causes of Poor Design Decisions," Riot Games' Tom Cadwell, design director of major hit League of Legends, will discuss poor decision-making in game design, outlining why talented teams don't always act in their own best interest.
Cadwell, a former Blizzard designer and architect of the multiplayer online game smash, will examine the root causes of a number of common design mistakes, and will offer advice on how to avoid them.
- In another signature lecture, Playdom's Steve Meretzky and Dave Rohrl will look back at the recent developments in the growing social space in "The Year in Social Games 2010-2011." In this talk, the veteran pair will examine the emerging trends, standout games, and business innovations that have emerged in the social game market over the last 12 months, and will point out the developments to look for in the coming year.