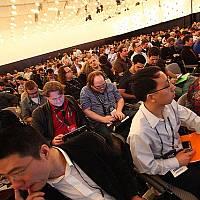 The Game Developers Conference Europe 2010 has concluded a second successful year, confirming record overall attendance across paid attendees, media, speakers and exhibitors to the August 16th-18th show.
At the same time, organizers have revealed a return to Cologne, Germany for a third GDC Europe show -- again opposite GamesCom -- on August 15-17, 2011.
Produced by UBM TechWeb Game Network, organizers of the leading worldwide Game Developers Conference series, GDC Europe is the largest professionals-only game event in Europe, presenting the latest trends and technology in all aspects of the online gaming space for developers, consumers, publishers and trade professionals.
Highlights of day two and three major talks at the show, reported by sister website Gamasutra.com, include the following notable talks:
Day Two
-In the day's first keynote, Heiko Hubertz, CEO and founder of Bigpoint, advised attendees that to conduct business in America as a European company, the time to do it is "right now." Throughout the talk, Hubertz elaborated on the differences between the U.S. and European markets and educated the audience about how to be successful in America as a European, based on Bigpoint's experience there. Hubert advised "There are only two existing markets in America, the console market and the Facebook market."
-In his keynote, Killzone developer Guerrilla Games' managing director Hermen Hulst discussed his studio's genesis, and its successes and failures in evolving into a Sony-owned AAA console powerhouse. Hulst began with the mantra: "to survive and to grow... you need to consistently improve yourself. He took attendees through examples of how Guerrilla's experiences have informed their history and the key decisions made from the time Sony signed the title that would become Killzone through to today. Plus, he revealed the studio is expanding to work on a "game with a scope and a level of ambition that once again makes us nervous" -- specifically a "brand new IP."