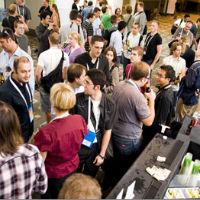 GDC Online has debuted partner content for next month's Austin show, including LocoRoco creator Tsutomu Kouno on PlayStation Home, plus Turbine's Kate Paiz on moving to free-to-play and subject-specific mixers from the Writers Guild, Epic, Crytek, hi5 and more.
The Austin, Texas based conference -- formerly known as GDC Austin -- is sharply focused on the development of online games, and there are now more than 120 panels, lectures and tutorials currently scheduled for the October 5th-8th event.
Following the confirmation of a keynote from Zynga chief game designer Brian Reynolds (FrontierVille), and track keynotes from Blizzard's Greg Canessa (on Battle.net), Playdom's Raph Koster (on social mechanics), and Bigpoint's Heiko Hubertz (on the rise of Europe in online gaming), organizers are revealing vendor-supported talks and receptions of relevance to attendees.
Some of the key new vendor-specific sessions and supported mixers, receptions and parties of relevance to all GDC Online attendees are as follows:
- As part of the recently confirmed GDC Online tutorials, Sony's full PlayStation Home day will include a keynote from LocoRoco creator Tsutomu Kouno on bringing the LocoIsland and Mui Mui Ship add-ons into Sony's PS3 online world.