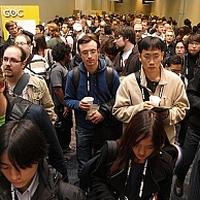 With this year's Game Developers Conference in San Francisco complete, organizers have been collecting the event's substantial volume of visual documentation.
This volume chronicles many of the speakers who highlighted the main conference tracks during GDC, part of the UBM Techweb Game Network (also this website's parent company), from inspiring creative manifestos to in-depth discipline-specific talks.
These include notables such as Blizzard's Rob Pardo and keynote speaker Sid Meier of Civilization fame, as well as last-minute secret speaker addition Will Wright (The Sims), and many more from the over 450 GDC speakers this year. An earlier roundup collected images from the Independent Games Festival Summit, Pavilion, and Awards.
Game Developers Conference 2010 Sessions
These pictures capture moments from a wide variety of talks, drawn from the considerable official GDC photo archive.

Firaxis design legend Sid Meier (Civilization, Pirates!) headlined this year's conference with his keynote "The Psychology of Game Design (Everything You Know Is Wrong)."