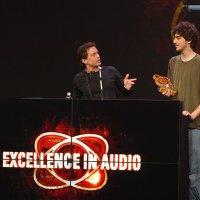 Organizers of the 2011 Independent Games Festival are pleased to announce the jury panel that will determine the finalists and winner of its Excellence in Audio award, a category which seeks to highlight the best musical & sound innovation, quality, and impressiveness in independent gaming.
Prior finalists and winners of the IGF Excellence in Audio award, which will be given out at Game Developers Conference 2011 next March, earned recognition for games that took an entirely new and unique to approach to sound in games or otherwise excelled at their craft.
These have included Queasy Games' abstract acoustic guitar shooter and 2007 award winner Everyday Shooter, 2008 finalist guitar-controller platformer Fret Nice, 2009's ultra-stylized finalist PixelJunk Eden from Q-Games and Osaka musician/DJ Baiyon, and the atmospheric 2010 award winning Closure (pictured).
This year, the jury will receive recommendations from the wider body of over 150 IGF Main Competition judges (itself including notable former IGF winners, finalists and indie game notables including Ron Carmel, Andy Schatz, Ramiro Corbetta, Kellee Santiago, and Olivier Lejade) as they consider the merits of each of the five finalists and eventual award winner.
The 2011 IGF Excellence in Audio award jury consists of the following:
- Danny Baranowsky (Founder of dB soundworks and musician behind games like Canabalt & 2010 Excellence in Audio finalist Super Meat Boy.)
- Vincent Diamante (Composer and sound designer behind PS3 indie hit Flower, audio & game design teacher at USC's School of Cinematic Arts.)
- Jordan Fehr (Sound designer/editor/mixer with credits on Super Meat Boy, Donkey Kong Country Returns, SteamBirds, Realm of the Mad God, & Spewer.)
- Dylan Fitterer (Creator of music-puzzle racer and 2008 IGF Excellence in Audio winner Audiosurf.)
- David Lloyd & Larry Oji (Respectively, musician and founder of game music site OverClocked ReMix; OCR head and soundtrack director on Capcom's Super Street Fighter II Turbo HD Remix.)
- Matt Piersall (Founder of GL33K, the indie audio studio behind games like Splosion Man, Comic Jumper, Epic Mickey & Donkey Kong Country Returns.)
- Emily Ridgway (Music director and audio designer on games like BioShock, Brutal Legend & Costume Quest.)
- William Stallwood & Dain Saint (Respectively, creative director & technical director of Cipher Prime Studios, creator of ambient music puzzler Auditorium.)
- Rich Vreeland (Composer, sound designer, netlabel curator, and chiptune musician performing as Disasterpeace.)
- Josh Whelchel (Independent composer behind The Spirit Engine 2 & Bonesaw: The Game and works for UbiSoft, MTV and Zynga.)