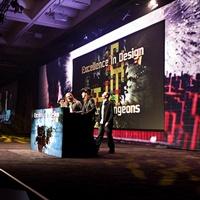 Swedish developer Mojang's acclaimed 3D world-building sandbox title, Minecraft was a big winner at the 13th Annual Independent Games Festival tonight at Game Developers Conference in San Francisco, earning the Seumas McNally Grand Prize for Best Independent Game, as well as the community-voted Audience Award.
In a diverse set of award-winners, other Independent Games Festival award recipients included Frictional Games' psychological horror game Amnesia: The Dark Descent, which took home awards for Technical Excellence and Excellence in Audio, as well as the sponsor-supported Direct2Drive Vision Award.
Elsewhere, noted independent developer Messhof received the $5,000 Nuovo Award - which honors abstract, shortform, and unconventional game development which "advances the medium and the way we think about games" - for his two-player art game, Nidhogg.
In addition, QCF Design's short playtime dungeon crawl adventure Desktop Dungeons earned the award for Excellence in Design, and the Excellence in Visual Art award was won by Gaijin Games' retro-psychedelic BIT.TRIP RUNNER.
Finally, the award for the Best Student Game went to the Myst-like abstract adventure game FRACT, from the University of Montreal, and Best Mobile Game was awarded to Ratloop's unique 'line of sight' puzzler Helsing's Fire.
All of this year's IGF winners and finalists are playable at Game Developers Conference at the IGF Pavilion on the GDC Expo Floor, which is open Wednesday, March 2nd through Friday, March 4th.