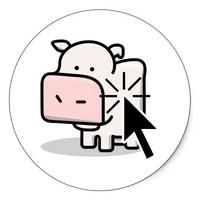 [Continuing his new 'Tales from the GDC Vault' series, digital historian Jason Scott showcases his digitizing and contextualizing work for Game Developers Conference content for the GDC multimedia archives, showcasing Ian Bogost's newly-free Cow Clicker talk and a new GDC 2000 press reel.]
Jason Scott, GDC Historian and Archivist here. Great news for you, if you've been hearing a lot about this "GDC" thing and want to know what you're missing.
Game Developers Conference has not just been freeing up older, classic talks like the ones I've been digitizing from over a decade ago - they've also released a variety of just-recorded talks from recent GDCs. All of these are recorded using the digitally speaking mechanism, where you can watch the speaker and slides, just the slides, just the audience, or whatever works for you.
There's a growing pile of these present-day presentations that you'll get your hands on, and I'll be pointing out some of the ones that really grabbed me, looking over them.
So here's a great talk to check out from this just-past GDC, one of the more surreal and meta-referential talks that was on the lineup: "Making a Mockery: Ruminations on Cow Clicker" by Ian Bogost, originally given at GDC Online 2010 in Austin in October 2010.