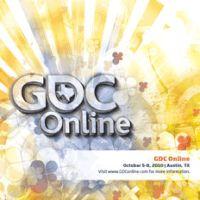 Game Developer Conference's sister website Gamasutra.com is in Austin, Texas all this week covering GDC Online, with a host of lectures on online games, iPhone/iPad and related product announcements already written up for the lead video game art and business website - and here's all the stories posted so far.
The Austin, Texas based conference -- formerly known as GDC Austin -- is sharply focused on the development of online games, and there are now more than 120 panels, lectures and tutorials taking place during the October 5th-8th event, with almost 90 companies on the show floor.
The highlights of content at GDC Online thus far, written up by Gamasutra editors from session coverage and official releases, include:
Session Coverage
- Bungie's Staten On Building Worlds, Not Words
"At GDC Online, Bungie's Joe Staten said that to create meaningful stories within a massive universe like Halo's, it's important to build worlds first -- and not to be "that guy" fixated on large and uncompromising narrative."
- LoroRoco's Kuomo Talks Making Of PSHome Loco Island
"Talking at GDC Online on Wednesday, Sony Japan Studios creative director Tsutomu Kuono (LocoRoco) discussed his history in the biz and the making of Loco Island for the PlayStation Home online world service."
- Improving Game Stories With Concise Writing, More Writer Input
"In a GDC Online talk today, comics and games writer Antony Johnston argued that our medium would benefit from more concise stories and more input from writers throughout the development process."