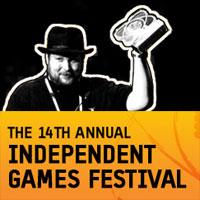 Organizers have officially opened submissions for the 2012 Independent Games Festival, being held at the Game Developers Conference 2012 in San Francisco next March 5-9.
The Independent Games Festival is
the longest-running and highest-profile independent video game festival,
summit, and showcase, and is now accepting entries to its 14th annual
edition, with deadlines in the Main and Student Showcase categories by
October 17 and October 31 respectively, and finalists to be announced in
January 2012.
All games selected as finalists will be available in playable form at
the IGF Pavilion on the GDC show floor from March 7-9, 2012, and will
compete for nearly $60,000 in prizes, a significant increase from last
year.
This includes the high-profile $5,000 Nuovo Award, honoring abstract,
short-form, and unconventional video game development, and previously
won by designers including Jason Rohrer (Between) and Messhof (Nidhogg).
In addition, awards for Excellence in Visual Art, Audio, and Design,
Technical Excellence, Best Mobile Game, the Best Student Game, and the
Audience Award each now receive a $3,000 prize, and the signature Seumas
McNally Grand Prize for the independent game of the year (won by
Mojang's Minecraft in 2011) has been increased by 50 percent to a record $30,000.
Winners will be announced on stage at the high-profile Independent
Games Festival Awards on Wednesday, March 7, 2012, at the Moscone Center
in San Francisco. The Independent Games Festival Awards are held
immediately before the wider Game Developers Choice Awards.