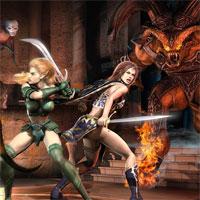 GDC Online has debuted a new batch of lectures for the October show in Austin, featuring speakers from Riot Games on iterative tool creation, SOE on introducing streaming to EverQuest II, and Bunchball on the essence of gamification.
Taking place Monday, October 10 through Thursday, October 13, 2011 at the Austin Convention Center in Austin, Texas, GDC Online continues as the leading worldwide event dedicated solely to discussing the development and business trends surrounding connected games -- including casual titles, MMOs, virtual worlds, and social networking games.
This year's Main Conference will include tracks on Business & Marketing, Customer Experience, Design, Production, and Programming, as well as a sponsored track on Monetization.
As seen in the event's Schedule Builder, the following lectures are highlights from this year's Main Conference:
- In the show's Programming track, Riot Games' senior gameplay engineer Andy Woo and senior producer Travis George will host "Putting the Plane Together Midair," a talk detailing the ongoing development process behind the studio's smash hit League of Legends.
Woo and George will go over the studio's process for iteratively developing their tools, while simultaneously using those tools to ship projects and support an active online game.
- Also in the Programming track is a lecture dubbed, "EverQuest II Extended: Streaming a Non-Streaming Game," in which Joshua Kriegshauser, technical director at Sony Online Entertainment, will explain how EverQuest II adopted an online streaming system for a game originally designed for a standard, file-based install.
Noting SOE's assumptions and lessons learned when retroactively implementing this streaming system, Kriegshauser will teach attendees the ins and outs of implementing an online streaming system in games designed without that infrastructure in mind.