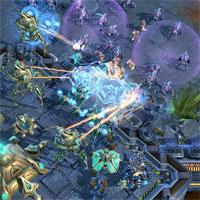 The GDC Vault service has released several new free videos from the Game Developers Conference 2011, this time featuring a collection of strategy game talks covering StarCraft II's e-sport aspirations, a behind-the-scenes look at League of Legends, and a panel examining the future of the strategy genre.
These talks join recently-debuted free videos including GDC 2011's social game developers rant, sessions from successful indie startups and industry veteran Don Daglow, in addition to GDC 2011's classic postmortem series and a slew of other sessions from throughout the history of the Game Developers Conference.
The following video lectures are the newest highlights to be made available for free from GDC 2011:
- When Blizzard set out to create StarCraft II, the studio had to reinvent the rules of one of the most popular competitive games of all time. In "The Game Design of StarCraft II: Designing an E-Sport," lead designer Dustin Browder outlines the obstacles Blizzard had to overcome to make the game suitable for spectating and high-level competitive play.
- Riot Games' Tom Cadwell and Steve Snow discuss the development process behind the studio's hit MOBA title in "League of Legends Postmortem -- Beta, Launch and Beyond." Here, Cadwell and Snow "discuss the three major areas that were particularly challenging: Recruiting a team without a reputation or a product, interacting with an existing audience with large expectations, and organizing teams to be successful amidst the distractions of a live game."
- In "Strategy Games: The Next Move,"
a panel of strategy game experts discuss rising trends, overlooked
innovations, and the overall trajectory of the strategy game genre.
Speakers including writer Tom Chick, Civilization veteran Soren Johnson, Civilization 5
lead designer Jon Shafer, Robot Entertainment's Ian Fischer, and
Blizzard's Dustin Browder discuss the implications of free-to-play,
online persistence, and more to offer insight on where strategy games
are headed.