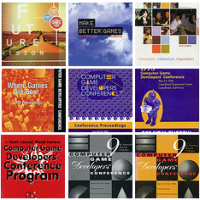 [Continuing his new 'Tales from the GDC Vault' series, digital historian Jason Scott looks at the evolution of GDC's programs and print advertisements, as well as some of the show's eclectic video reels from the 1990s.]
I suppose I could have entitled this entry "Judging a Book by its Cover," but even I have to draw the line somewhere. Welcome again to another entry of Tales from the GDC Vault, as I bring to you some highlights from GDC history that I am adding to the archives.
I've been capturing tapes like crazy, focusing on the "interesting" stuff, which really means I am essentially judging books by their cover -- I have to go by the tape labels, and if they mention keynotes and premieres, I put those at the top of the to-do list, while tapes that simply list the room number and session time have to wait for another time. Good thing I have some reference material to compare the times and dates to!
Along with the hundreds of video and audio tapes I received in the mail was a three foot stack of documents, mostly made of programs, proceedings and stray advertisements from various GDCs over the last 15 years. I've mostly been using them as reference material, as I type in the descriptions for talks that I'm digitizing. But these documents serve another purpose; they become visual manifestations of what attendees saw in their swag bag when they picked up their badges. Let's check them out.
(By the way, I put scanned images and photographs from GDC Vault work on the Official GDC Flickr account.)
The earliest two covers I have, from 1993 and 1994 respectively, show black and white, almost science-fiction-like drawings, including one of a robot playing chess, which is about as retro as you can get. As pure trivia, and possibly coincidence, the first game software sold for microcomputers was a chess game.